GS1 Standards Primer
GS1 standards apply in four basic areas that we will discuss more thoroughly below:
Identification Keys

Data Capture

Information Exchange

Data Use
Identification Keys
GS1 assigns globally unique identifiers that are essential to efficient product tracking. With each company, product, document, and physical location, (among other information) assigned its own identification key by one central standards board, supply chain tracking can be managed successfully.
Data Capture

Click below to subscribe to our blog!
GS1 provides standardized formats for creating barcodes and encoding RFID tags used to convey data about products when scanned. Barcodes are symbols that can be scanned electronically using laser or camera-based systems and RFID tags use radio frequency to emit serial numbers when scanned.
Information about the company, product, batches and packaging are captured from reading the serial number. Thisinformation can be transferred efficiently when GS1 formats are consistently used to write this data into barcodes and RFID tags. This allows all parties involved to accurately identify and track products as they move through the supply chain.
Information Exchange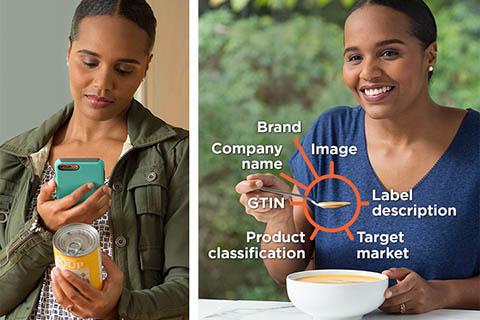 Information sharing only works in a highly structured environment. GS1 standards facilitate this for Electronic Data Interchange (EDI) among parties within a supply chain.
GS1 also provides electronic information exchange infrastructure through its:
Global Data Synchronization Network (GDSN), its electronic platform for enabling member companies to share product data; and

GS1 Cloud, a centralized interface that allows consumers to access information about products offered by member companies. (Photo courtesy of GS1.)
Data Use
GS1 sets the standards that govern the way data is used to ensure consistent practices and efficient transfer. The GS1 Global Traceability Standard guides the implementation of third-party traceability solutions throughout the supply chain to the consumer. It provides a framework for ensuring that these solutions are interoperable and scalable.
GS1 is also beginning to create standards for connectedness and interoperability in the nascent Internet-of-Things.
Railroads Engage GS1 Standards for Tracking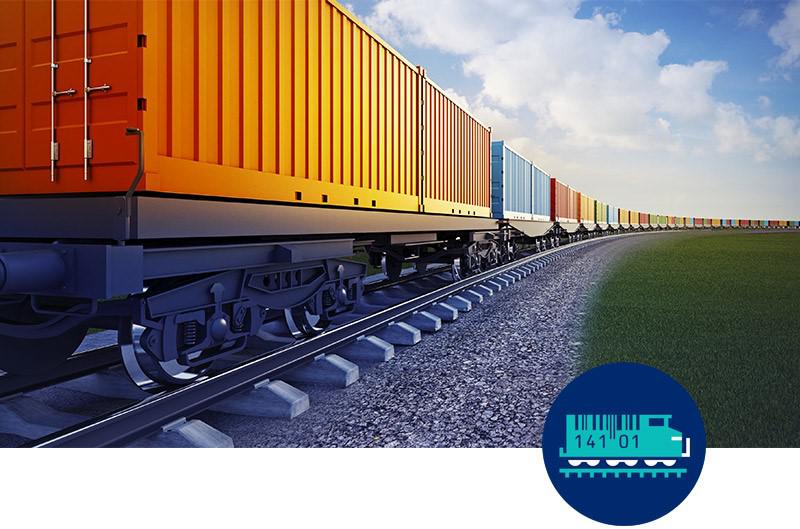 More than 20 leading railroad companies around the globe have engaged GS1 practices and standards in tracking trains, transported goods and components used in maintenance and repair. This is most prevalent in Europe, where the need for standardization is great because railroads operate internationally.
The Australasian Railway Association has also engaged GS1 standardization with its Project i-TRACE initiative effective January 1, 2019.
(Image courtesy of GS1)
Railroads have moved to tracking because it creates operating efficiencies that are critical to managing mounting cost pressures and regulatory compliance. Specifically, tracking enables:
Timely condition-based maintenance

Foundation for safety-relevant information exchange

Improved analytics and incident investigation

Identifying more easily series faults

More effective recall management
GS1 has partnered with the rail industry to create three application standards:
Identification of components and parts

Exchange of component/part lifecycle data

Vehicle visibility standard
As two out of these three standards relate to components supplied to the rail industry, the movement to GS1 standards presents an enormous opportunity for forward-thinking railroad vendors. Those who include tracking capability where none has been offered before will benefit. Idencia's Swiss partner, Vigier Rail, is doing this with concrete sleepers (railroad ties). They include GS1 standard RFID tags in their sleepers and offer the Idencia tracking service to provide quality assurance information along with the data that is written into the RFID tag.
Let's look a bit deeper into the three application standards.
1. Identification of Components and Parts
GS1 identifies four primary events in the Maintenance, Repair and Overhaul (MRO) cycle. Each may require 'marking' (updating GS1 formatted barcode or RFID tag), but only two are required:
Production: The manufacturer is required to apply an identification key
Receipt: The railroad company may need to mark if the identification key is unreadable
Installation: Additional marking with configuration data may be required
Refurbishment: Marking will be required to convey refurbishment information
The use of RFID tags provides an advantage here because they can be rewritten to updated marking without removing the tag. They also provide durability that will last throughout the lifecycle of most components whereas barcodes do not.
Three levels of identification are utilized depending on the nature of the component and the tracking need. These increase in specificity:
Class Level ID: Object level classification (SKU)
Lot Level ID: Identifying the lot or batch in which product was made
Serialized ID: Specific product identification
As information technology continues to improve, it is likely that Serialized ID will become the prevailing practice to benefit from the improved accuracy and analytics that this enables. Idencia is currently providing Serialized IDs in our RFID tags. The Idencia product tracking system supplements the GS1 Identification Standard by enabling product level information capture that exceeds the scope of what can be included in the serial number. For example, precast concrete manufacturers can capture any type of information requested by their railroad customer and associate this with each product tagged with a GS1 coded RFID tag.
2. Exchange of Component/Part Lifecycle Data
GS1 has created a common language for the electronic exchange of data that has been compiled in its standardized formats. As GS1 describes in its Application Standard published in February 2018, its intention is to build on the standardization of component and part IDs by creating a standard for communicating event information:
"By uniquely identifying MRO-objects in a way that is universally recognized, rail stakeholders can develop and share manufacturing & maintenance and usage information, enabling rail equipment operators to consistently fulfill tracking and tracing needs while reducing overall costs."
Written in the Electronic Product Code Information Services (EPCIS) protocol, an open GS1 and ISO standard, the application addresses the fundamental questions related to events:
What: What class, lot or individual component/part was involved?
When: When did the event occur?
Where: Where did the event occur? At what read point or business location?
Why: Why did the event occur?
3. Vehicle Visibility Standard
Finally, GS1 provides a standard communication protocol to track the movement of trains. Because it applies the EPCIS protocol, information can be easily shared and communicated with other railroad companies in real-time. GS1's Vehicle Visibility Application brochure provides a good overview of how the system works and the benefits it provides.
Product Data of Barcodes With More Functionality
Radio Frequency Identification (RFID) is a system of using radio waves to communicate information between scanners and tags containing an antenna and an integrated circuit. Unlike barcodes, tags do not need to be in the line of site to be read. In fact, they can be embedded in products. Idencia customers who manufacture concrete railroad ties embed the RFID tags in the product to protect them against the elements when in the field. RFID tags can be read even when embedded as much as 3 inches (7.5 cm) deep.
There are two types of RFID tags:
Active RFID tags, which require battery power to actively transmit information. Automated tolls on highways use this system. The transponder in your car contains a battery, antenna and circuitry that broadcasts information when you go through the toll. The advantage of Active RFID tags is that they provide a two-way system of communicating data. The disadvantages are that they are expensive and require batteries.
Passive RFID tags are used for product tracking because they offer most of the advantages of Active RFID tags without the disadvantages. Passive tags are inexpensive and do not require an external power source. The integrated circuit within the tag is excited by the radio waves initiated by scanning. The only disadvantage is that they contain a limited amount of information.
Passive tags work well for product tracking in general and GS1 compliance specifically. On the most limited level, they can simply serve as a serial number that is used to identify a product in a product tracking system. The number that is produced when scanned becomes the serial number of the product. Software can be used to capture information and store it in association with the serial number. (This is how most Idencia customers use passive tags.)
Manufacturers using RFID tags for GS1 compliance can encode them to produce serial numbers in the required Electronic Product Code (EPC) format. GS1 requires the following syntax for data written into RFID tags used to identify specific objects:
urn:epc:id:giai:CompanyPrefix.IndividulAssetReference
Where:
urn:epc:id: is the prefix that is used to inform the tag reader that the information which follows is about a specific object. This is called the Pure Identify Internet Uniform Resource Identifier, or Pure Identity EPC URI.
giai: identifies the 'scheme" (in GS1 parlance) or the nature of the asset. In the case of concrete railroad ties, the scheme entered is "GIAI" to demonstrate that the object is a fixed asset.
CompanyPrefix: is the unique identifier provided to the manufacturer by GS1.
IndividualAssetReference: is the unique serial number applied by the manufacturer to the product.